Open Hours + Shelf Reading This Sunday!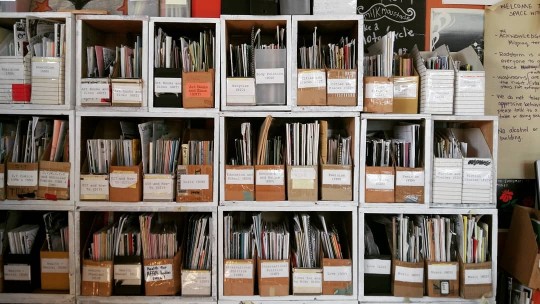 The Anchor Archive Zine Library summer student, Jakob Roberts, will be hosting a mini shelf reading party this Sunday, July 8th, during regularly scheduled open hours!

Shelf reading is a library-jargony term that for us will just mean looking through the whole zine collection and finding zines that have been placed in the wrong box or haven't been catalogued properly, and making sure they're placed in their proper homes. It's a big task, so every helping hand is welcome!

While you're here, feel free to browse the zine collection or even become a member so you can check out zines for the full library experience! Membership is a one-time fee of anywhere from $2 to $10 or the donation of a zine to the collection. Money donations are preferably by email transfer, but cash can also be accepted.

Radstorm is located (for now) at 6050 Almon Street in Halifax and is open to the public every Sunday from 2-6 PM. Everyone is welcome to come ask questions are learn about how to get involved with the Anchor Archive ZIne Library, the Inkstorm Screenprinting Collective, and/or the SadRad jam space and venue.