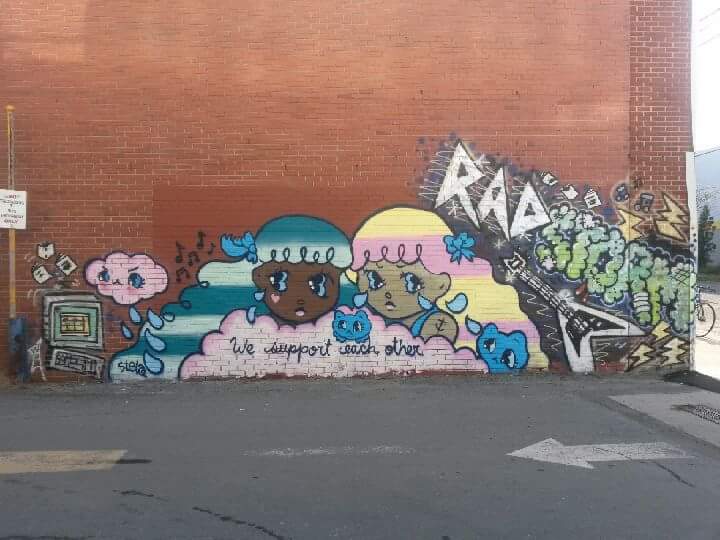 In October 2017 the Anchor Archive Zine Library welcomed a white Montreal mural artist to paint on the wall of Radstorm's current location on Almon Street. No directions or limitations were given. When the mural was done, the artist had depicted two POC femmes crying, with the caption "We support each other". Radstorm's name was painted next to it by another artist. After the work was done, there were an array of reactions. Most reactions were positive, but some wondered if the mural represented the space. Historically the space has had predominantly white internal leadership and thus representation.
Many questions were raised about how the mural reflected or did not reflect Radstorm, and how much it needs to. After a few meetings, a vote was taken on what should happen to the current mural. The largest vote was to keep the mural while at the same time agreeing with many of the criticisms raised. The concerns arising from the mural have not been as much about the content of the mural as its (mis)representation of Radstorm. The concerns may in fact be more about Radstorm itself, so altering the mural may be a diversion from the issue of working to create a better space. There were of course a variety of vote responses; it is worth noting that we aren't always a unanimous front. So if we aren't going to do anything about the mural, what are we going to do instead? Over the last year we have had several facilitated conversations, workshops and meetings about challenging racism/white supremacy. We are in the process of revising our guiding principles/goals to include anti-racism and anti-colonialism. In practice this looks like providing resources, spaces, materials, and energy to those struggles as well as welcoming Radstorm to be used for closed BIPOC or other closed events. Radstorm in general and these goals are a work in progress, and we will fuck up, but we'll keep trying...
The point of this letter is to acknowledge that the mural exists on the Radstorm building and that we have discussed and considered the feedback that we have gotten about it at length. We are open to continued feedback about it if there are any voices that we did not hear. In all honesty, this could be likely. Hopefully, this can be everyone's Radstorm and we can make it work and respond in whatever ways are envisioned.

In the future, we are moving from the building soon (summer 2018?) as it's being demolished. We may have more murals in the future, and the process a decision like that will take may be different, but we will certainly be a cheap, DIY creative spot even if the walls of the outer building are plain, and you are all invited to help envision what you want inside that space and help take up the reigns. To get more involved, please come to open hours from 2-6pm on Sundays or check out our calendar (http://sadrad.h-a-z.org/) for upcoming meetings and events. Feedback about this letter or the mural can be sent to <radstormhalifax@gmail.com>.

To future radstorms, past radstorms and today's,
Thanks for reading,
<3 Radstorm
Written by Melissa, Sally, Capp, Laura, and Charvel on behalf of the "Radstorm Steering Committee"