​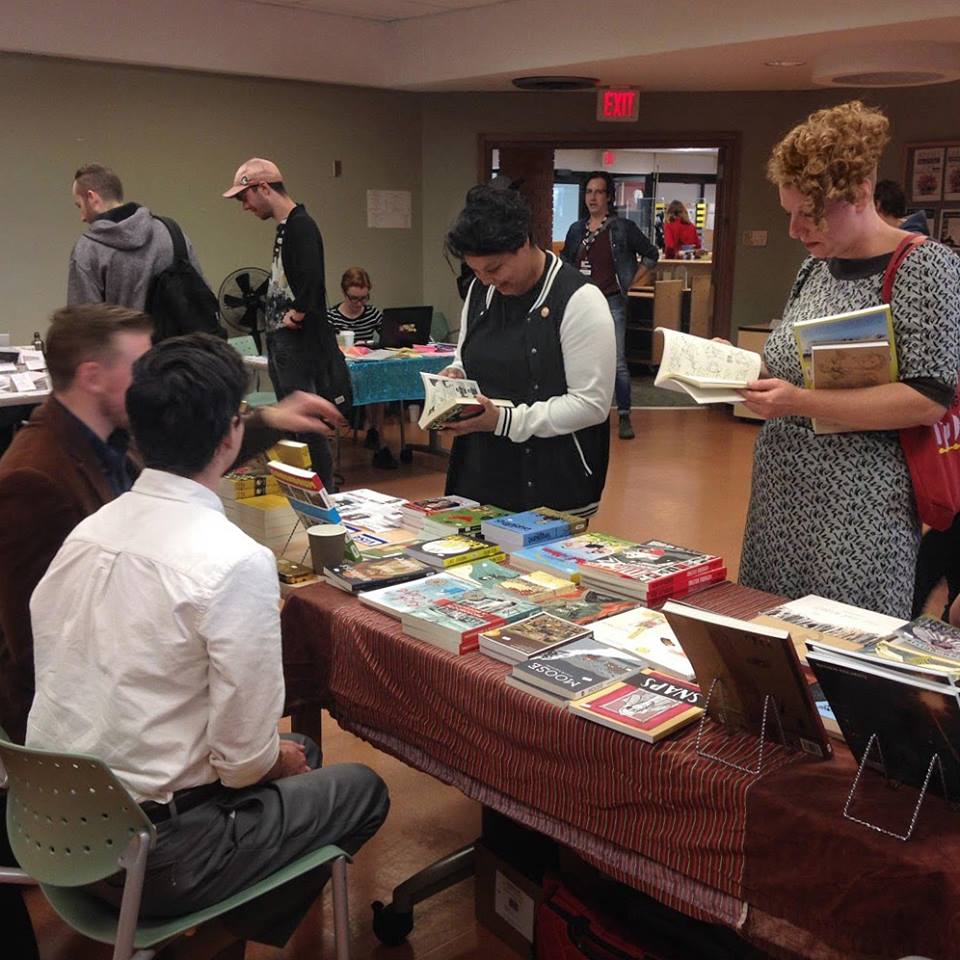 ​ The Anchor Archive Zine Library has been hosting a zine fair in Halifax since 1999, as part of the Halifax Pop Explosion, a week-long independent music festival that happens every October.  The Zine Fair brings zine-makers, zine distros, bookstores, small press publishers, comic artists, print-makers, authors, and musicians from all over the Maritimes and beyond to sell and trade their creations. 
The 2018 Zine Fair will be on Saturday, October 20th at Halifax North Memorial Public Library. Fill out this application by September 7 if you want to table at the Zine Fair.
Like us on Facebook to hear more news and updates!
The 2017 Halifax Zine Fair was on Saturday, October 21st at the Halifax North Memorial Public Library.
2017 Zine Fair artists:
Alannah J - wodaro.tumblr.com
AM Does Art 
Amanda Stevens
Beehive Design Collective - https://www.facebook.com/beehivedesigncollective/
Born on a Tuesday/Avalon Moore - bornonatuesday.com
Bronwyn Mundell - www.bronwiththewind.com
Bruce Barber's NSCAD Printed Matter Class - www.brucebarber.ca
Conundrum Press - @ConundrumCanada
Elyse Moir - elysemoir.ca
Emily Redmond - https://www.instagram.com/emilyered/
Eraserheader Design - drawyourdumbface.com
Eric Diolola - https://maximata.bandcamp.com/
Femme Crimes Distro - https://www.facebook.com/femmecrimesdistro/ 
Flyknife Comics/Bruce Delo - www.flyknifecomics.com
Ghost Pine Zine - https://ghostpine.wordpress.com/
Greta Hamilton - mghamilton.ca
Justice Colwell - www.justicecolwell.com
Lindsay Cahill 
Liz Mac Illustration - www.lizmacdraws.com
M. Mohamed - http://cargocollective.com/m-mohamed
Milan D. McKay - @futurblot
Oakheart Studio - www.instagram.com/oakheart.etsy
Sarah Foote - 100gryphons.wordpress.com
Sarah Thunder - https://sarahthunder.tumblr.com/
Scott Marshall - potzrebie.com
Starchild Stella - https://www.facebook.com/starchildstela/
Taylor Made Embroidery - @taylormade_xox
Thelonious Crocker
Zine Fair Residency
In 2017, we hosted M.Mohamed as our zine fair resident! Drawing from black feminist thought and queer studies, M. Mohamed uses visual art and writing to examine social and collective memories of colonialism, racial formation, and its varied entanglements with queerness. During the 2 weeks leading up to the zine fair, she created a physical/hard-copy edition of her online zine "black girl on the internet," looking at the internet as a utopian alternative to the "irl" precariousness faced by black queer folks. Presented as a combination of screenshots, collage and text, the zine archives desire and affect in the digital realm. Among other digital artifacts, the zine touches on: angsty iMessage screenshots, the politics of natural hair tutorials on YouTube, and queer encounters on dating apps.
Questions or suggestions or want to help organize the fair?  Contact Amanda and Melissa at zineexplosion@gmail.com