We're hiring a summer student!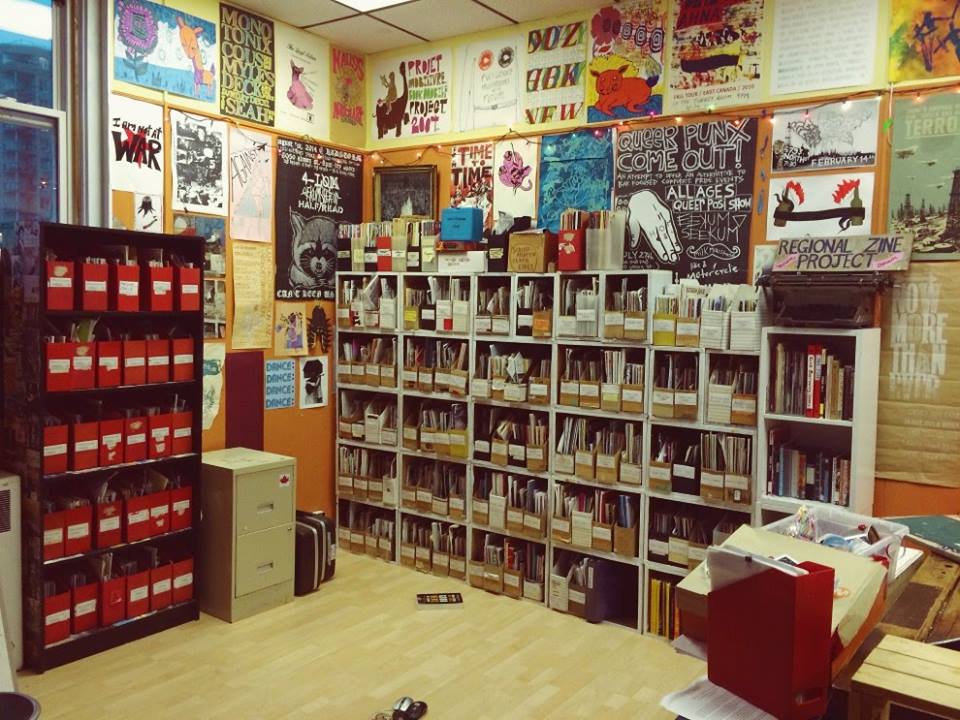 The Anchor Archive Zine Library is hiring a Zine Library Coordinator for the summer!
Mid June - end of August, 22 hrs per week at $18 per hour. Hours of work are flexible but some weekend and evening work is required.
Who We Are
The Anchor Archive Zine Library is a small library in the north end of Halifax that is dedicated to providing free or affordable access to independent and alternative media, art, and education. We have a collection of over 4000 zines that can be browsed and borrowed, a low-cost colour photocopier, and other zine making supplies, and we host zine making workshops. We are a non-profit organization that is run by a collective of volunteers and we strive to be inclusive, aware of barriers and discrimination, and welcoming to all ages. The Anchor Archive is a part of a collectively-run not-for-profit events and art space called Radstorm, along with Ink Storm Screenprinting Collective and Sadrad Music Collective, which hosts all ages shows and offers affordable jam space. For more information about the Anchor Archive, RadStorm, and related projects, see anchorarchive.org/about.
The Job
The Anchor Archive recently developed a new website and online catalogue and circulation system using open source content management software Drupal. It uses a custom hierarchical subject thesaurus that was created by the zine library to describe alternative media using inclusive, current, and accessible terminology. We are looking for a student who can manage the final stages of transitioning to our new website, which will include the following tasks:
Archiving content from the old website that is valuable for the history of the organization
Assisting with migrating our email addresses and email lists to our new domain
Creating new content about the organization for the new website
Updating terms the subject thesaurus and adding relationships between terms
Making the subject thesaurus more accessible to other people and libraries who use it
Creating original catalogue records for zines
In addition, the Zine Library Coordinator will be responsible for some library outreach and programming, including the following:
Organizing the annual 24hr Zine Challenge
Facilitating zine-making and zine cataloguing workshops for community groups as needed
Promoting the library, the new website, and library events on social media
Helping library visitors use the collection, catalogue, and resources
Qualifications
Must have been a full time student during previous year and intending to return to school full time next year, preferably in the Masters of Library and Information Studies or Library and Information Technology program
Interest in libraries, independent media, art, and making information accessible
Familiarity with cataloguing, metadata, and archiving practices and standards
Experience organizing or promoting events or writing content for social media or websites
Self motivated and able to work well independently with minimal supervision
Good time management skills
Comfortable with public speaking and workshop facilitation
Strong written and verbal communication skills
Creative and flexible, and comfortable in an unconventional work environment
Must be between the ages of 15 and 30
Accessibility
The Zine Library is located on the second floor of a building with no elevator, up two wide flights of stairs with railings. Please contact us if you have accessibility needs or any questions about accessibility of the space or position.
Application
To apply send a resume and cover letter in PDF format to zinelibrary@robertsstreet.org
Applications due Friday, May 18th
The Anchor Archive prioritizes applications from marginalized people who face systemic barriers to employment. Applicants are welcome to self-identify in their cover letter by including the statement, "I belong to a group that faces systemic barriers to employment."